Prints are one of this season's hottest fashion trends. One of those prints, patchwork is exploding on the scene and quickly becoming a favorite of Fall 2021's fashion trends. This boho-inspired print is not your grandmother's patchwork, it's much more chic.
The comfort dressing trend that dominated the world in 2020 led to the DIY craft core movement that had us tie-dyeing and crocheting while we were all homebound. Building on the popularity of that, enter patchwork. What appears to be swatches of different fabrics and textures that are pieced together to create a single garment or accessory is the iconic look of patchwork. We're seeing it in denim, leather, fur, couture, and accessories galore. Again, going retro and vintage this is yet another trend that is revived from the '60s and 70's similar to Checkerboard (see our other article on that trend too). Patchwork is one of those prints that has a big moment every few years, and now couldn't be more perfectly suited. So, if you have it in you're closet, it's time to take it out. If you don't, get it and keep it !!! Because this shabby chic tapestry. always comes back in style.
All the Fall/Winter runway shows were packed with patchwork in various forms. At Chloe, we saw several coats featured in many different fabrics, from leather to mixed materials. The colorways ranged from a stunningly rich neutral, earthy palette, to a colorful myriad of quilting squares, and a mosaic of materials. One interesting piece we can't fail to mention was the patchwork coat that seemed to also play on the checkboard trend, ingeniously combining the two hottest patterns of the season together in one amazing work of sartorial art. The details were even brought into accessories, with the prints carried through onto handbags.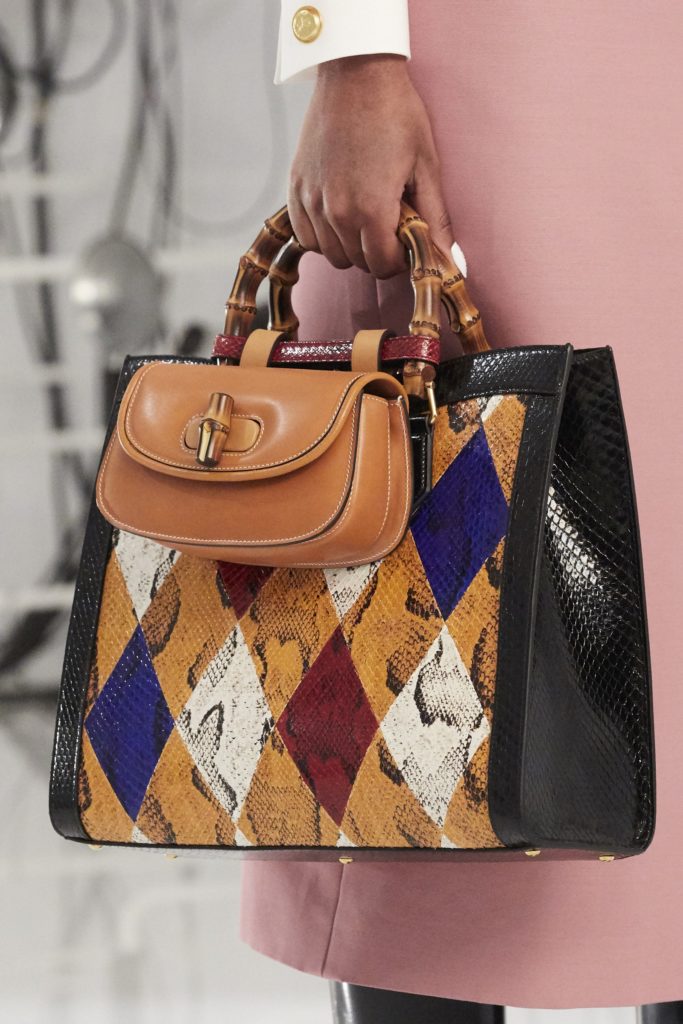 Fashion houses of Gucci and Christian Louboutin showcased their patchwork on tote bags, which is always a popular item for the patchwork trend. Victoria Beckham's line took the interpretation onto clothing with sweaters. Labels like Ulla Johnson, Bottega Veneta, Alice, and Olivia, as well as others also featured the trend in their collections too. To get your hands on high fashion items in an affordable way, Zara has some great trendy patchwork pieces to work in this fashion trend.
Social media platforms like Instagram and Tik Tok are partially responsible for contributing to the uber success of the patchwork fashion trend with celebs and influencers like Supermodel Heidi Klum, the Kardashians, and J. Lo, who has worn it several times, all taking the trend on. Singer, Dua Lipa even wore a pair of patchwork jeans by Loewe in a recent video collaboration.
Not only is this a fun trend to wear and so in style right now, but for those who are sustainably conscious, this plays to your cause as well. It brings attention to upcycling clothing and prolonging the life of garments by reusing elements. Keeping that in mind, some clothing and accessories featuring this trend may also be produced with a higher content of natural fibers. With the use of swatches of different fabrics and the construction of piecing them together, designers have taken notice and honored that with this trend.
Some of the most notable ways to style this look are by wearing it in denim, sweater vests which are one of the other major fashion trends this season., or taking a cue from the catwalk and wearing it in neutral tones. For a more bold look, wear a statement piece like a coat, or go full-on head to toe in this trend. If you're feeling funky, try some pattern mixing with different prints channeling some super boho inspo. As an alternative, to get a piece of patchwork incorporated into your wardrobe, invest in an accent piece like a tote bag or accessory. We're loving the patchwork trend and cozy vibes for Fall with prints this season. 
Editors Picks