Spring/Summer 2021 Statement Colors
The uplifting color palette of the season is a bright and saturated mix of pretty pastels. Selections for this summer are exciting and we are ready to get dressed again and make a statement with our wardrobe. Zara has them all featuring trending styles in the most popular pigments everyone is wanting to wear. Who says basics have to be boring !! Check out these bold colorful pieces from Zara's Spring/Summer 2021 collection which features all of Pantone's spring 2021 Fashion colors, along with many other fashion-forward shades !! Add any of these colorful pieces to your wardrobe to nail the look of the season !!
Marigold
A standout color by far, this is your go-to summer orange. Its warm tone begs to be worn. Find this color in many styles to choose from including dresses, bathing suits, and more. Why wait until summer? The ribbed knit dress pictured below is a perfect way to work this Spring/Summer statement color into your end-of-winter season wardrobe. The layering of the criss-cross crop top over the ribbed knit silhouette is the perfect way to experiment with this summers Wrap Around trend !!!
Cerulean
Beautiful blues give off cool vibes, and cerulean is the serene shade that evokes a vision of the sky on a crystal clear day. After spending so much time indoors, who wouldn't look forward to this shade !! As one of Pantone's Statements colors, Cerulean will be popping up all over the place this summer season. This summer's Cerulean comes in many shades, from pale to bolder hues. The shade looks great on many silhouettes, from summer knits to sportier pieces, and elegant evening silhouettes !! Check out the Zara pieces below to view many of the versatile ways in which Cerulean can be worn this summer !!!
This crocheted crop top and oversized sweater are the perfect pair to incorporate Cerulean into your wardrobe for early spring. For a runway-inspired look, pair with a high-waisted midi skirt !!
This tied short jumpsuit is the perfect way to incorporate Cerulean and sport !! Dear I say, this is my favorite piece from Zara's Spring/Summer 21 collection!!
Not a fan of shorts !! Swap the tied short jumpsuit pictured above !! This is an elegant way to incorporate elevated sportswear !!!
Who can say no to a Cerulean ruched midi dress !!!
This floor-length knit dress in Cerulean makes the perfect statement of sophistication !! For a pre-summer look pair with an oversided blazer !!
French Blue
Be inspired and invigorated with French Blue !!! This color is described by Pantone as a stirring blue hue that awakens a vision of Paris in the Springtime !!! This innovative take on classic blue suits the color mood of the season, which is to combine the natural with boldness and ingenuity in a way that promotes flexibility and adaptation to a flexible lifestyle. Well, what better way than to combine this color in a casual basic !!
Cutouts and Cerulean Blue make a bold basic !!! For ultimate chicness pair with a slim fit midi-length skirt!!
Illuminating Yellow
This bright and sunny yellow is a mood booster and one of Pantone's 2021 Color Of The Year.
If you're looking for something as bright and happy as the summer sun, go for a piece in one-half of Pantone's 2021 Color Of The Year.
Illuminating Yellow is a mood booster. Be bold and wear it on its own !! The Asymmetric dress pictured above is an elegant way to step out head to toe in this summer's statement color !!
The sunny shade can also be worn in a monochromatic casual look such as the matching knitwear set pictured above. This look incorporates 3 of the season's hottest trends !! Crop tops, Illuminating Yellow, and Casual Wear !! Click on the links below to shop the looks now !!!
Still not convinced? If you are lukewarm about Illuminating Yellow and not completely sold on the shade, For a more subdued look, wear the shade in small doses such as accessories !!! The purse pictured above makes the perfect addition !! It has two of my favorite trends !! Woven Bags and Illuminating Yellow are so in right now !!! Pair it with neutrals to lift your look, or style it with gray for the year's complimentary combo.
Pale Yellow
Another uplifting shade to illuminate your summer style is Pale Yellow !!! I absolutely love this color !! It was not one of Pantones 10 Spring/Summer 2021 Fashion Colors. However, on the Spring/Summer 2021 Runways. The color was just as relevant !!! The shade emerged as a microtrend during Fall/Winter 2020 fashion shows and was a big hue among brands such as Ferragamo and Acne Studios during the spring. Pale Yellow might not have the clout of illuminating yellow. But trust me it will be just as popular this summer in stores !! The hue lies somewhere between a pastel and a saturated shade, making it a good fit for summer knits and casual wear!!
This ribbed knit cardigan is the perfect way to transition Pale Yellow into your wardrobe for early spring !!
Dress up the cardigan above with this Pale yellow ribbed knit dress !!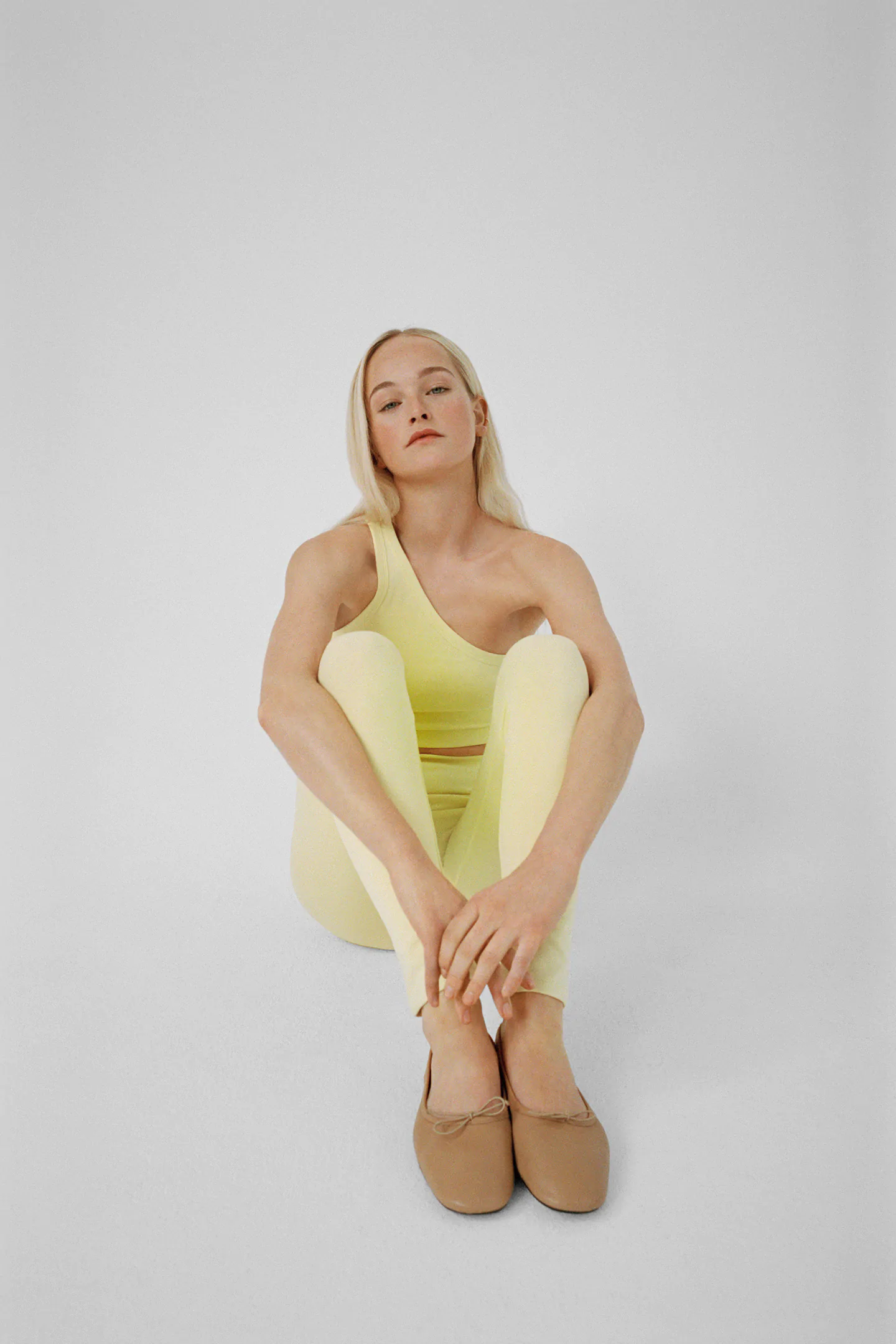 This Pale Yellow asymmetrical top and leggings are a fuss-free way to incorporate elevated sportswear. The color makes a bold statement along with the asymmetrical top !!! Asymmetry screams sophistication, and the silhouette will be a very big hit in 2021!!!
Bubble Gum Pink
Perfect pinks are hot right now and this is one of the main colors exploding in fashion and accessories. Take your pick from a selection of casual wear to summery dresses in this fabulous fun statement color.
Bubble gum Pink !! Ribbed knits and a bralette make the perfect casual combo!! I think I will swipe right !!
Another ribbed knit in Bubble Gum Pink !!! It's not too early to incorporate this cute mini dress into your wardrobe for early spring !! For a seasonal crossover look, pair with white square-toed thigh-high leather boots !!!
This Bubblegum Pink A-line dress is the perfect capsule for a warm summer day !!! The look can also go from office to after-work with a quick change to heels !!! Or better yet , this saturated color is the perfect statement for your work from home zoom meetings!!
Amethyst Orchid
To bring an unexpected gorgeous color into your wardrobe that really packs a punch, purple ticks off that box in a big way. In a supersaturated deep floral hue updated for summer, we are loving how it makes this jewel-tone next level.
Half Jewel tone, half basic !! This Amethyst Orchard basic is the perfect piece to dress up your summer day!!