Ribbed Swimsuits
A big trend in swimwear this season is texture and fabric. As an alternative to prints, the detail focused on here is in the design of the material. Ribbed styles are generating interest and quickly becoming the go to look on the beach or poolside. It's a great option for those who are drawn to a more minimal aesthetic without compromising on trend or style. The refreshing feel of this new form of fashion in swim is casual but chic and also comes in many shades of the season such as purple, saffron, coral and pistachio.
High waisted Shorts
We always love vintage inspired trends and that is flowing into the swimwear market as well. The high waist bottoms have been around the last few years and they are back again. This has become a classic style and is available in a variety of different shape interpretations. One of the best parts about these bottoms is the comfort factor that can't be beat!
Bandeau Tops
Another vintage trend circa 1950s is the bandeau swim tops. The simple wraparound style is a mainstay and favored choice for many. The French word meaning strip perfectly describes the instantly recognizable silhouette. Also known for its comfort and tan line free design, this traditionally strapless top is now evolving with some styles featuring to hold it in place. This version of the bikini is another alternative for those seeking a minimalist style in swimsuits.
Ruffled Shoulders
One of the hottest trends this season have been ruffles. Just like with ready to wear, ruffled shoulders and exaggerated sleeves are in style for swimwear too. Ruffles are everywhere and swimwear is no exception. These feminine layers have flowed onto one-pieces and two pieces. If we had to choose a favorite detail to define an of the moment look this summer for a swim it would have to be ruffled. It can't help but remind you of the ocean waves we can't wait to dive into!
Artsy Prints
The perfect canvas for artistic prints to splash across is swimwear. The trend was mostly seen on the racy one pieces that have taken over this category for the last few seasons. A blank space yields the perfect opportunity for bright, bold colorful prints that are unique and a wearable work of art. This is a great way to make a statement and be fashionable while soaking up the sun!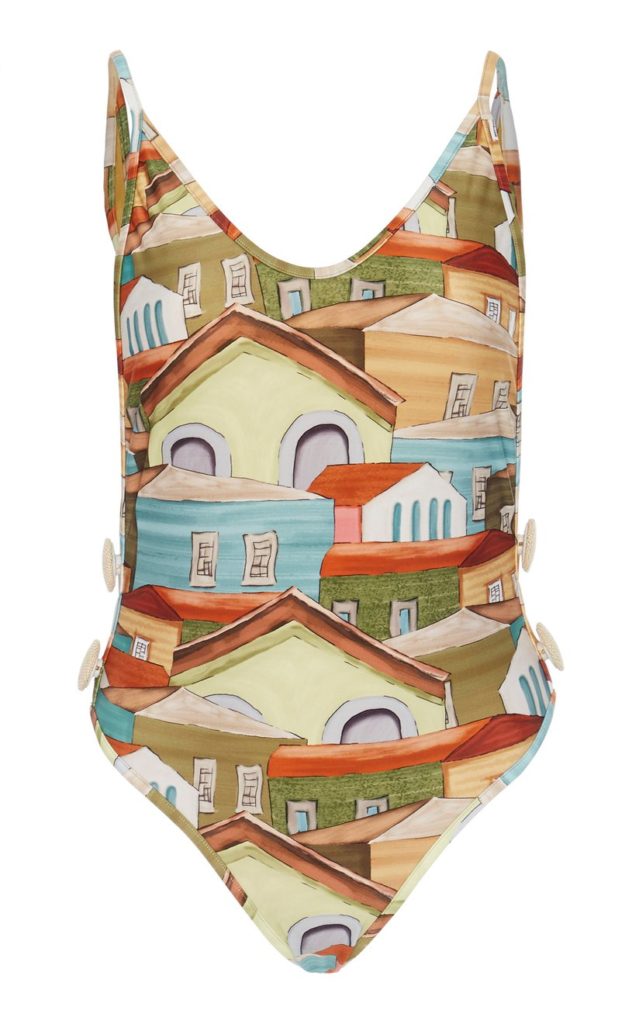 One Pieces
Famously being one of the most loved silhouettes in bathing suits is the one piece. Once known for it's modesty the one piece is now an updated style that appeals to everyone. Ranging from one shoulder to cut outs and even belted designs the creativity of the reinvented one piece is limitless. It's important to note that it is also a universally flattering shape on all body types.