Dining in Barcelona can be a captivating experience for anyone. The Catalonian city is home to some of the worlds most famed Michelin star restaurants. Take a look below to view some of Barcelona's most celebrated restaurants.
Marina Port Vell Restaurant
---
Address : Moll de la Barceloneta, 1 , 08003 Barcelona, Spain
Telephone: +34 93 484 23 15
Website: http://restaurantmarinaportvell.com/wp/
Unique in design and setting, Marina Port Vell combines comfort and style – a great place to be seen or to relax and enjoy the atmosphere and unrivaled city views. From cocktails on the terrace to the culinary delights of Executive Chef Francisco Díaz, members and guests will be treated to one of Barcelona's truly memorable experiences. In the mood for cocktails, then stop by Marina Port Vell Blue Wave, the restaurant's adjoining bar which was voted best bar in the world by the prestigious Restaurant and Bar Design Awards.
Disfrutar
---
Address: C/VILLARROEL, 163 BARCELONA 08036
Telephone: +34 933 48 68 96
Website: http://www.disfrutarbarcelona.com/
The name says it all, Disfrutar means to enjoy in Spanish, and this restaurant certainly provides a one of a kind gastronomic experience. The restaurant's design is light and contemporary, with an open-air kitchen and a stunning outdoor terrace. All aspects of creativity are embraced. From the décor to the plates, the cuisine is served on. When dining at Disfrutar, guests will find themselves surprised by the many tasting menu's which are always rotating and unpredictable and can span over 32 courses.

Before opening Disfutar in 2014, the restauranter owners Mateu Casañas, Oriol Castro and Eduard Xatruch trained at El Bulli and opened Compatir in 2012 in Cadaques. Since its opening, Disfrutar has been recognized on many prestigious restaurant lists and has been awarded 2 Michelin Stars. Disfrutar was also voted number 18 on the list of the world's 50 best restaurants.
Enigma Concept
---
Address: Carrer de Sepúlveda, 38, 40, 08015 Barcelona, Spain
Telephone: (+34)616696322
Website: https://elbarri.com/restaurant/enigma/
At Enigma, dining is like an art. This igloo inspired restaurant provides diners with an imaginative dining experience and a one of a kind décor. The team behind Enigma Concept is none other than that of the former El Bulli, a Costa Brava restaurant, previously known as the most famous restaurant in the world.
The dining experience is an entirely immersive and sensory-filled, with metallic ceilings, and furniture that resembles ice, and no menu insight, so guests have to guess the ingredients (Phillips, 2017). The ultramodern restaurant consists of six different rooms and spans over 7,500 square ft. Dinner is spread over 40 courses and takes around 3.5 to 6 hours to eat. In each room waits for a surprise, where each course is unpredictably different than the other. Conde Nast Traveller has described Enigma as Barcelona's most secret restaurant, and that is right. Guests are discouraged from posting photos, as to maintain the allure behind the cuisine. Reservations are a must, as booking costs $ 100 and dinner costs 235 dollars minus the drinks (Odell, 2017). Dining at Enigma is not like your typical restaurant visit, but more of an experience, for those with an experimental, imaginative pallet.
Roig Robi
Osmosis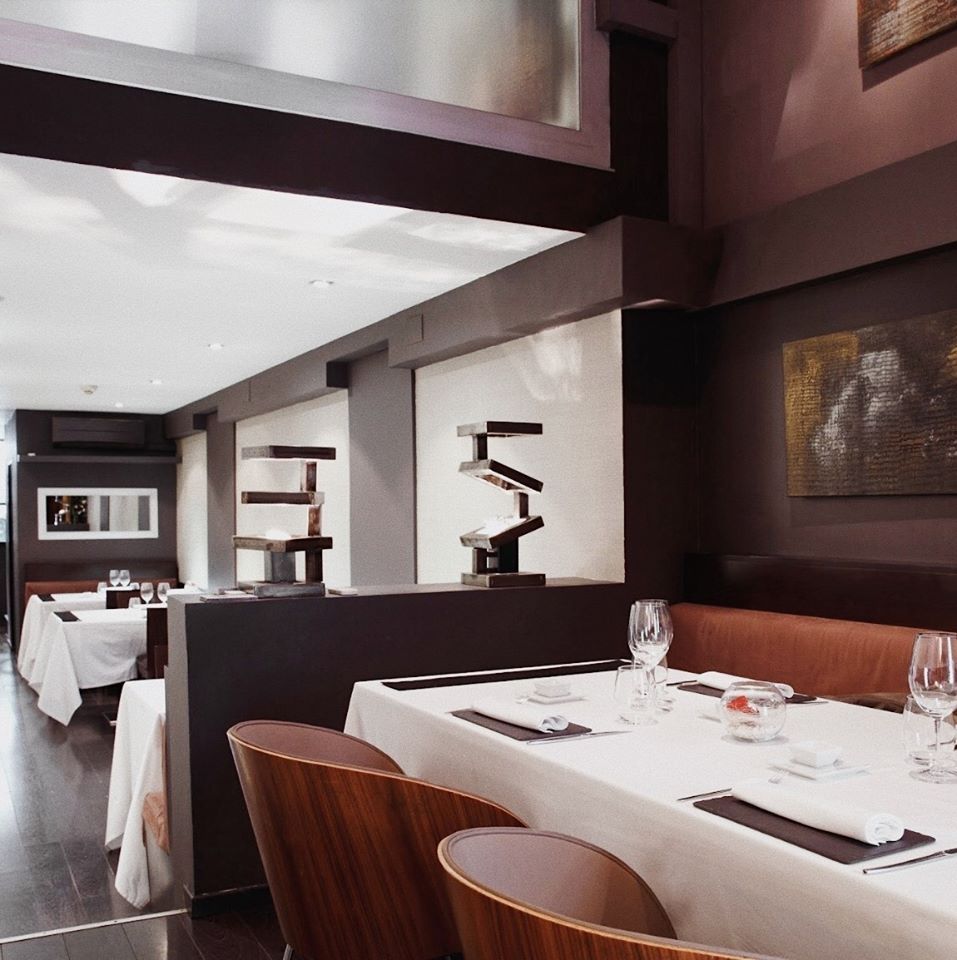 ---
Address: Carrer d'Aribau, 100, 08036 Barcelona, Spain
Telephone: +34 934 54 52 01
Website: https://www.restauranteosmosis.com/
Osmosis began in 2006, with the concept of Modern Catalan Cuisine and enology. The Barcelona eatery was founded by sommelier Ignasi Montes and business partner Frederic Fernandez. Osmosis prides itself on delivering an exclusive gastronomic experience, with a creative and personal touch. By rotating the menu every two weeks, Osmosis is always surprising its guests with innovative and interesting cuisine. The success of the restaurant lies in its philosophy of equilibrium. By combining the old with the new, Osmosis has found a balance between tradition and innovation. As an Enoteca, the eatery boasts an expansive wine list over 300 labels, consisting of both current and classic varieties. Osmosis also includes a Tapas space, where guests can sample a tasting menu of Osmosis eats.
Spoonik
---
Address: Carrer de Bertran, 28
08023 Barcelona
Telephone: +34 648 08 52 09
Website:http://www.spoonik.com/#home
At Spoonik, the flavors of Mexico and Columbia are fused together with a Mediterranean twist. The stylish supper club is the hottest place to hit Barcelona. Previously Barcelona's best-kept secret, Spoonik is no longer a private club and is open to the public. Spoonik was initially launched as an exclusive dining experience in the home of Chef Jon Geraldo in December of 2013. The concept then continued by surfacing into a series of underground dinners and events in the unique artistic setting of the chef's home.
Spoonik owes its creativity to Chef Jon Heraldo and Jaime Liberman. Chef's Jon Heraldo, a fourth-generation cook, trained in a variety of specialties, mostly known for his original take on mestiza cuisine. Jaime Liberman is a multi-disciplinary artist known for transforming Spooniks dishes into magical artworks. The pair now combine their expertise at Spoonik restaurant to lead a team propelled by their vision.
Spoonik fuses the worlds of hospitality, creativity, cutting edge techniques, and fusion to provide visitors with a similar experience as felt at Spooniks club.
Plates are flavorful and visually appealing to deliver a magical surrealist dining experience.
The main attraction is the tasting menu in which fresh seasonal ingredients take center stage while combining textures, flavors, and influences to serve up surprising and inspirational dishes that astonish the senses.
Each course accompanies a performance, where the entrée takes its inspiration from the act. Plates are accompanied by curated wine pairings, where the selection is always local, unusual, and exclusive.
Spoonik provides diners with a unique and sensory-filled dining experience all within an elegant and artistic setting where evocative imagery is used, along with various elements. Theatrical performances come together to create the ultimate supper club experience fueled by a whimsical dining experience that changes with every visit.
Hoja Santa
---
Address: Avinguda de Mistral, 54, 08015 Barcelona
Telephone: (+34) 93 348 21 92
Website: https://elbarri.com/restaurant/hoja-santa/
This artful and eclectic award-winning eatery is a must when dining in Barcelona. The Micheline Starred Mexican themed restaurant is another impressive venue in El Bolis portfolio. The restaurant was launched as a tribute to the chef's home country and takes its name from Hoja Santa, an aromatic herb indigenous to Mexico. The concept for the menu revolves around Haute Mexican cuisine transformed for European tastes. Menu items are A La Carte, so guests can define their own gastronomic experience. Fare ranges from tacos and moles to antojitos and stews, all of which are prepared with high quality and eclectic range of ingredients, with tastes that you will not experience anywhere else.
Tickets
---
Address: Avinguda del Paral·lel, 164, 08015 Barcelona, Spain
Telephone: +34 932 92 42 52
Website: https://elbarri.com/
Just another award-winning restaurant in El Barris portfolio. Tickets is amongst the winners of the world's "Fifty Best" (2019) and is consistently rated as one of the top places in Barcelona to go for Tapas. The venue is headed by Fran Agudo, and the kitchen is run by Chef Joan Romans. The magic behind tickets lies in its experimental concept, which was founded on the exploration of the universal language of tapas envisioned through world cuisine. The menu is constantly evolving to provide customers with an ever-changing selection of fresh local ingredients that make use of seasonal components.